BEER BATTER FISH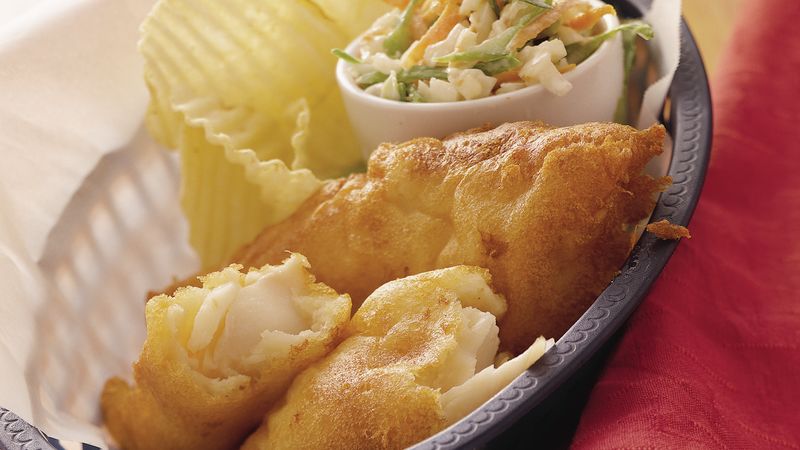 Diet and additional info
kcal 1040
fat 43g
saturates 6g
carbs 120g
sugars 3g
fibre 6g
protein 49g
salt 1.16g
Method
Combine the flour, cornflour, baking powder and turmeric inside a large bowl, season, then spoon 1 tablespoons of onto a plate and hang aside. Progressively pour the beer and water in to the bowl, stirring having a wooden spoon til you have an even, lump-free batter. Leave to relax for half an hour when you prepare the chips.
Heat oven to 200C/fan 180C/gas 6. Boil a sizable pan water, adding the chipped taters and boil for just two-3 mins before the outsides are simply tender although not soft. drain well, then tip onto a sizable baking tray using the flour, oil and a few salt. Lightly toss together until all of the taters are evenly coated and also the flour is not dusty. Roast for half an hour, turning from time to time, before the chips are golden and crisp.
To prepare the fish, heat the fir litre oil inside a deep saucepan until a small amount of batter sizzles and crisps straight up away. Pat the fish dry with kitchen paper, then toss it within the reserved turmeric flour mix. Get rid of any excess, then use the batter. Carefully lower each fillet in to the herbal and fry for six-8 mins – with respect to the thickness from the fish – until golden and crisp. Utilizing a large slotted spoon, lift the fish, drain on kitchen paper, then sprinkle with salt. Serve using the hot chips and Homemade tomato sauce (see 'goes well with').